Welcome to the Swiss Music Show site. The site aims to bring you news, views, and information on what's happening on the Swiss music scene.
The site was created by David Glaser and Catherine Nelson-Pollard (you can hear us on the short audio below). Our tastes in music differ, we don't always agree on each other's choices but we do agree that there is some great music coming out of this small, but perfectly formed country here in the heart of Europe.
On the site we will generally feature bands that sing in English, but we will slip the odd sound in from bands who sing  in French, German, Italian and Romansch (the four official languages of the country). From time to time we will be also be interviewing artists from other countries who are scheduled to play in Switzerland.
The Authors
David
David Glaser first fell in love with radio when he discovered a small radio studio in an old farm house near his childhood home. Every Saturday, he would grab his bike to go and hang out at the studio. A few years later he became an intern at the very same station.
Since 1991, David has been presenting, producing, music programming and interviewing for many radio stations in France and Switzerland: Radio France, Rouge FM, World Radio Switzerland (when it was part of Swiss National Public Radio), and has covered everything from U.S presidential campaigns to the Tour de France in his career.
David listens to music from all over the world but is he particularly passionate about Swiss music and he shares this passion on the Swiss Music Show with co-presenter Catherine.
Catherine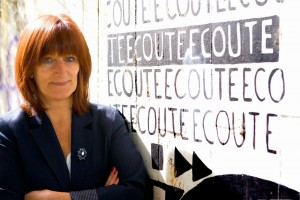 Catherine Nelson-Pollard was born in the North of England but has since lived in many other countries around the world. She presented radio programmes in South America (on behalf of Radio France Internationale) introducing European music to the Uruguyan and Argentinian audience, and in her home country on BBC Radio Leeds (introducing South American music to British listeners).
She has lived in Switzerland since 2001 and since that time has grown to love the country and the diversity of music that it produces.
David and Catherine first met when they were both working at World Radio Switzerland and decided to pair up professionally to produce a programme in English that showcases all the new and exciting Swiss music that is currently coming out of the country.
A big thanks to Catherine Lewis photography for the portraits of the presenters. Catherine is available for portrait commissions.
See her site here