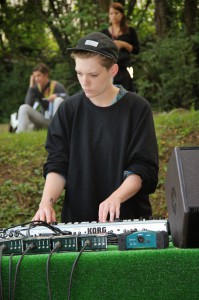 Back in July, David told us that he was listening to the music of Verveine, an electro singer from Vevey. In August he went to see her perform at the "For Noise" festival in Pully (near Lausanne). The festival itself is set in stunning scenery and  had plenty of big names on its line up this year from Blondie to Thurston Moore, Kaiser Chiefs, The Other Lives, Jean-Louis Murat and more.
Verveine playing for the press at Paléo 2014
"For Noise" also showcased the best of local indie music. Verveine played to a packed Demovie Salon on the Saturday night of the festival to a crowd of enthusiastic people. After the show, feedback from the audience was very positive and Verveine kindly agreed to chat to David (in the early hours of the morning) for the Swiss Music Show.
David: Can you define your kind of music?
Verveine: My music is essentially an electronic music/hardware project. I don't work with a computer and I am not a DJ. It's live electronic music. I compose all the tracks by myself. I have been working for four and a half years on this current project.
David: Your music seems almost cinematographic, spatial, ranging from basic electronic sounds to a much broader spectrum of sound. Is that how you see it?
Verveine: Yes, I agree on the cinematographic comparison. Images inspire me first and then lead me to compose. Maybe one day I would love to work on a project for the cinema industry. Who knows.
Having said that my music is very subjective. Each individual who listens to my music will see something different. I come from rock, but also from the culture of singing in a choir and classical music which I studied it for fifteen years. The instrumental and the harmonic construction are very important in my music. I am working hard on the harmonic aspect. It is not just using a kick and a snare like we usually hear in electronica, I create layers and try to look for equilibrium. I am more like a music director in a classical band but with machines.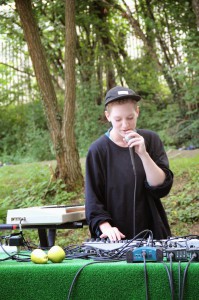 David: You seem to really enjoy using your voice
I started music by singing. That was one of my first "instruments" with the piano. When you add a voice to the music, it helps you to define your colour, your style, like a painter's trick that makes him recognisable. The use of a voice is real plus when you think of all the possibilities that exist musically. I am a singer but not only because all this instrumental work is part of the same process. The voice is another way of expressing yourself.
David: Do you think you will go on doing everything by yourself or are you ready to open up to other musicians?
"Verveine" was originally conceived as a solo project but we'll see what comes up next.  I am really open to collaborating with other musicians.
David: Now that the Swiss music scene is on the international map,  do you want to explore the world with your music? 
Yes I put absolutely no geographical limit to my projects. I am lucky to start my career in Switzerland, we have a lot of advantages.  I would love to travel around the world.